⭐️  Inline Document Capture: You can now add a field to a form that gives drivers the ability to scan one or more documents, and view those scanned documents, while they are in the process of completing the form. This enables you to set up a synchronous workflow at the load or stop level that requires the driver to scan their documents before advancing to the next load/stop status. Your messages web service receives the message two times. The first message includes a status of the document while it uploads to the Document Hub alongside any other information collected in the form. The second message includes a downloadable version of the document, a link to the Document Hub, the quality score of the scanned document, as well as any other information collected in the form. Document Scan actions do not support metadata forms that use the new FORM-SCAN field.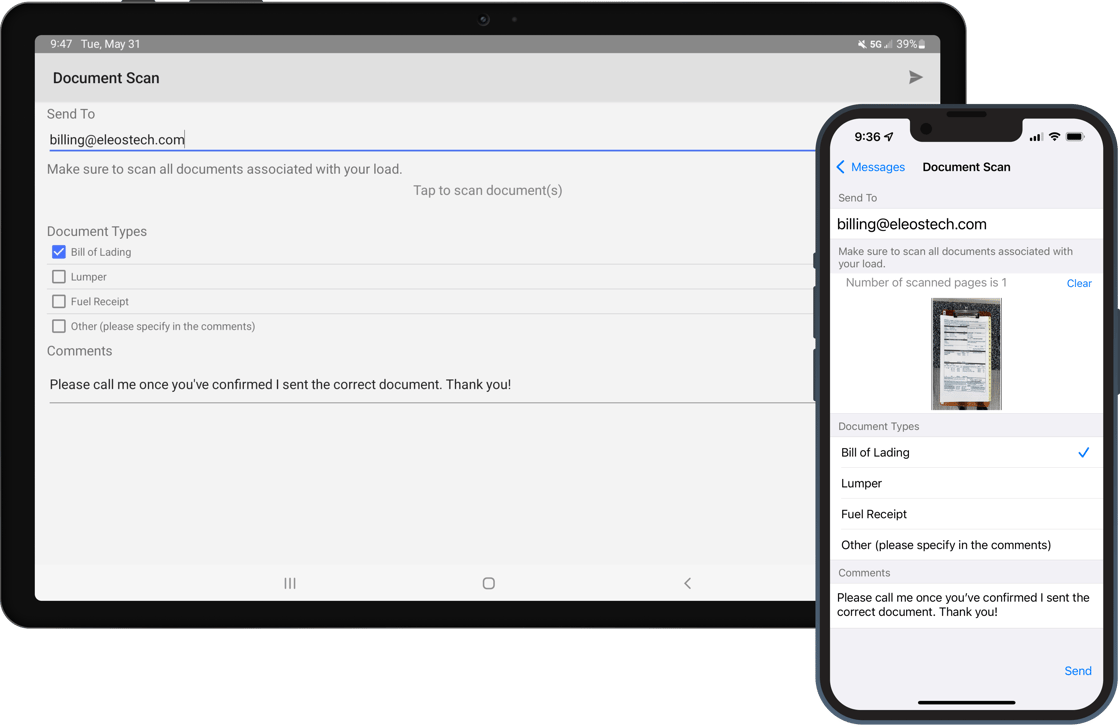 ⚠️  WARNING: There is a known crash that occurs when a user attempts to open a form with the new FORM-SCAN field on Android version 1.48 and prior. Please ensure your fleet is upgraded to 1.49 before using this field. 
⭐️  Upgraded Map SDK and Routing API: We upgraded to the latest version of our navigation provider's mapping SDK and routing API. The upgrade allows Eleos to adopt their new features at a faster rate, offers a more responsive interface, drastically reduced route calculation times, and a modernized map style.
⚠️  To ensure a timely release suitable for the majority of our customers, there are two specific features not available in this current version: the ability to pre-download map data and honoring the disallow_metered_map_downloads flag. We are currently working to add support for both of these features in version 1.49.1. In addition, users might notice that lane guidance instructions are displayed later during navigation. We are collaborating with the provider to improve this performance and experience.
 ⚠️  WARNING: Effective September 30, Trip Planner and turn-by-turn will no longer function on Eleos apps version 1.48 and prior due to our routing provider's sunset of the API used in those apps. Drivers must upgrade to 1.49 or later to retain mapping and navigation functionality after September 30.
✅  As usual, this version of the Platform mobile app is designed to be backward-compatible with your existing web services and doesn't require server changes prior to being deployed. If a future version introduces a backward-incompatible change, we'll note that in this portion of the release notes.
iOS
🐞 Fixed a bug where the keyboard could insert the cursor into form fields correctly
🐞 Fixed a bug where routes would calculate multiple times while syncing Trip Planner
🐞 Fixed an issue where a route would never resolve and only show a spinner indefinitely 
🐞 Fixed an issue in Trip Planner where the lower right section of the map was not accepting user interaction 
Android
🐞 Fixed a rare crash that could sometimes occur on the message details screen
🐞 Fixed a usability issue on the route options screen where changing the truck type would not reset the trailer count
🐞 Fixed an out-of-memory crash that could occur for very long routes in Trip Planner
🐞 Fixed a crash that could occur when null values are supplied for a launch-url action